Are you spending enough quality time with your child?
You want to watch your favorite show at 10, but you are barely awake by then. School, homework, classes, dinner and bedtime – and the routine goes on and on. Welcome to the wonderful world of parenthood!
With young kids and a list of chores, times starts crawling as your energy and patience decline through the day. And yet, years seem to fly by, and in the blink of an eye your 4 month old is now 4 years old. With each passing birthday, you realize that this craziness is not going to continue forever – that your 4 year old, who sometimes stubbornly insists that you carry her in your arms, will soon be too old to be carried. In moments like these, you wonder if you are doing justice with the finite time you have together.
Think about this – There are only 972 weekends from the time your child is born till the time she turns 18. If your child is 4 years old, you have already utilized 216 of those weekends. Are you making them count?
But then, we all have limited time in life, and the list of things to do is never ending. So how do we ensure that whatever limited time that we spend with our child is meaningful? Afterall, we cannot slow down time. We can only make it more meaningful and memorable!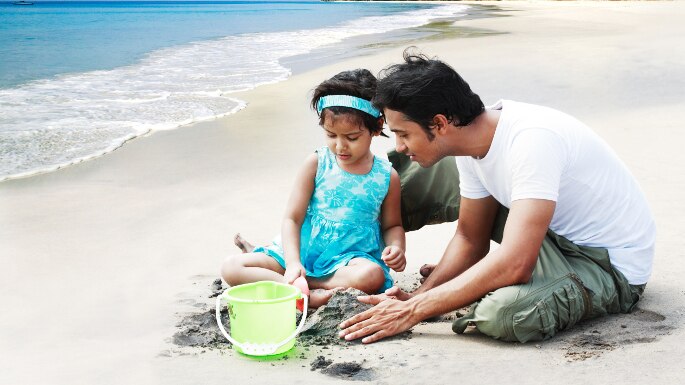 Switch OFF The T.V And Smartphones!
This sounds like an impossible task to do. But when you already have limited time to spend with your loved ones, you do not want to replace conversations with the background noise of a television. Having no distractions around automatically creates time for conversations! If you wonder what you would do in the evening without the television, think about filling the time with activities that need interaction like playing board games, reading books together or even cooking.
Eat Together
A family that eats together, stays together. Plan the day such that the family is together for at least one meal everyday. This can be the time for you to check your child's schedule for the day, get an update on upcoming school events and plan for weekends. If your schedule doesn't permit to meet at mealtimes, plan at least one activity each day when the family is together. Use this time to interact and know more about your child's day and their everyday highs and lows.
Convert Chores To Quality Time
This may take a bit more patience initially, but chores can become a great family activity. Household chores are never ending in a home with kids. Getting kids to participate in the chores will make them more responsible and participative. Sure, trying to fold laundry with a 5 year  old will take longer to get done. But you can always get them to sort the laundry and fold their socks. Not only have you used chore time to keep the child engaged, but are also taught them life skills at the same time!
Go Outdoors
Hitting outdoors is a sure shot way to have quality time with your child while following a healthy lifestyle. A regular dose of sunshine will keep you happy and healthy, and also set a good example for your child to follow. A quick game of football or badminton shouldn't be difficult to accommodate twice a week, if you plan in advance.
Plan More Family Time On Vacations
While vacationing with family, plan for activities that you can do as a family. Plan for more time on the beach together, rather than spending time sight-seeing. Spend the mornings at the pool, take along card games for lazy afternoons and hit the beach for a game of football. Less of travelling will mean less stress and more time to unwind while you are vacationing!
It's not Easy
Sure, it's not easy. Sure, you will fail sometimes. Sure, there will be days when you reach home past your child's bedtime. But that only makes it even more important to make it count when you reach home early in the evening – to make the most of the sunshine and convert those little moments into memories!
Is it tough? You bet, it is. Is it worth it? Always!